Introduction
My name's Annie D & I'm a combination of things, what I would call, a hybrid generation with a concoction of old and new values. Born and brought up in England, and now living in Delhi, as you can see, I am definitely a long way from home. My primary schooling was in Southall, a place with a healthy Indian community that Bollywood has put on the map in some of the biggest movies on the silver screen. So imagine the culture shock as a few years later, I end up being the only one from my school to go to a Church of England High school, all the way in Acton. Now as we are all wiser in hindsight, I would say that it was probably the best thing that ever happened to me as it opened my mind and my world to new people and cultures and not just Indians!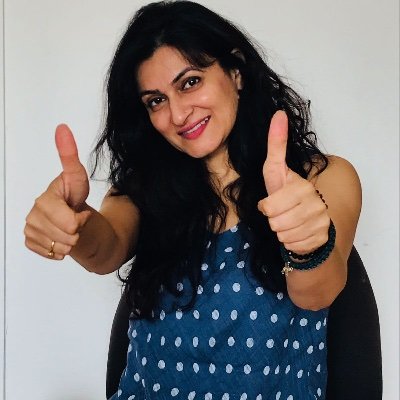 Well, as you can imagine, education was king and I suppose still is in our culture, so I ended up shifting out to Central London to study Human Biology at one of the most prestigious institutions at the time, Kings College London. Three years later, with a degree in hand and some lifelong friends in tow, I went out into the big bad world to find my future. Of course life was suddenly confusing at that time and I wondered what to do with this sudden found freedom I had, to navigate my life. Well, just like any good Indian, I tootled along to my nearest library and decided I wanted to do an MBA, after a science degree you may ask? And I say yes!
Now that's how I ended up in the far reaches of Scotland for a year and opened my life to even more people and experiences that I bring to my work and you today.
Professional Life
I then left Scotland with an MBA, specialising in Retail management and was ready to immerse my self into a world of colour and fabrics since it was my passion at the time. I joined a well known clothing retail company and worked my way up ending up managing a retail outfit measuring almost 24k square foot.
But I realised alas, that maybe working for someone else just wasn't my thing anymore, I just had too much to give in terms of ideas and personal expression. So that is exactly how a job at the local radio station came about. I ended up working for one of the biggest Asian radio stations in the London as an RJ and that's where Annie D was born.
Coming to India 10 years ago was definitely a game changer though, where I had to get used to a different mind set, a different system, or dealing without one, a language barrier, no family and no job. I sat for a year wondering how to get over that brick wall that felt was closing in on me and decided that something had to change and only I could make it happen. So I created and sent out samples of my voice and waited and waited and waited….
At the same time, to fill the gap, I wondered what else I could give that nobody else could, or at least very few, how I could contribute. I used to look out my window and look at children in the villages and then turn around and see children in the complex and used ruminate on whether there was any difference between the two. The only word that came to mind was 'opportunity.' I remember my teachers at school not giving an opportunity that I needed at one time and realised that's all I needed as a child and decided that I was going to teach children English. Not just any child, but those that really thought they couldn't, or whose teachers had given up on them. Even if I say so myself, my MBA professor would have been proud of the way that I created strategies, and still do in fact, for each child to suit their learning needs.
But as usual everything comes in together, as I started getting projects for Voice over jobs for the British English accent and slowly started getting students with particular requirements in English. Then of course, as my voice got out into public spaces like PVR, people started recognising my work and one fine day I got a call from Radio One. Now that is when Annie D was revived and I became the Morning Show Host for the station and enjoyed every minute. Alas, after a while, the bug for independence struck again and I decided to set out once more to free myself from the shackles. I ended up branching out into anchoring and expressing my thoughts on Social media, a place where you see me today!
You'll see me interviewing people and discussing various issues in an around the table discussion called 'You, Me & Her.' But if you switch sides, then you can even watch my interviews with interesting people, in a one to one conversation on my very own You Tube channel called 'Annie D in conversation with..' For all the rest, well there's my Facebook page RJ Annie D and Instagram @anniedconversations!